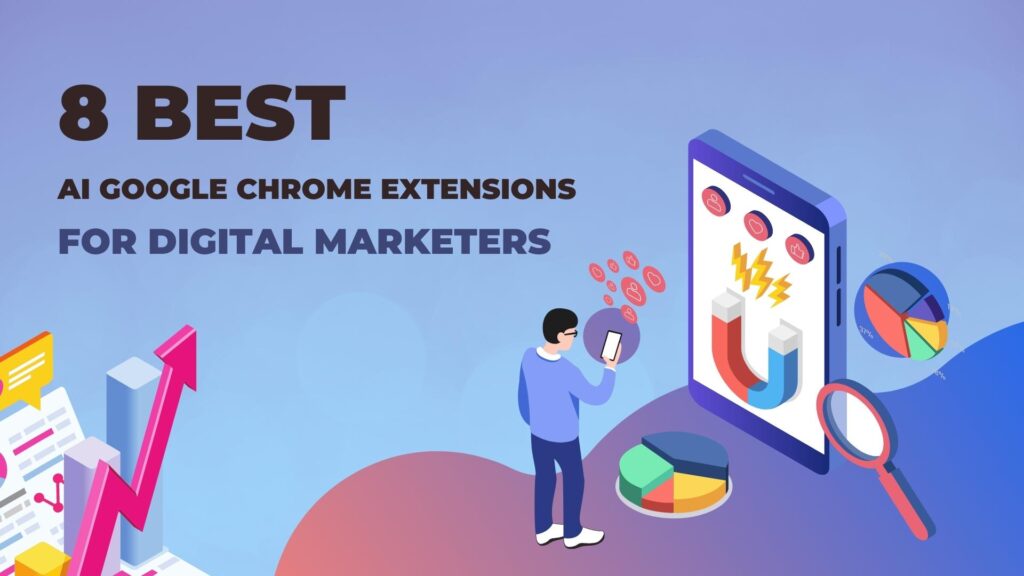 Introduction
Digital marketing is an ever-evolving field, and staying ahead of the curve is essential for success. With the power of Artificial Intelligence (AI), digital marketers can take their strategies to new heights. In this article, we will explore the 8 best AI Google Chrome extensions for digital marketers that will transform your marketing efforts. From enhancing productivity to automating tasks, these extensions will empower you to achieve remarkable results while unleashing your creative potential.
8 Best AI Google Chrome Extensions for Digital Marketers
Search Engine Optimization (SEO) is the backbone of any successful digital marketing strategy. SEO Minion is an AI-powered Chrome extension that helps you optimize your website for search engines. From analyzing on-page SEO elements to checking broken links and SERP previews, SEO Minion equips you with the necessary insights to boost your website's visibility and drive organic traffic.
Finding the right keywords is crucial for attracting the right audience to your website. Keywords Everywhere is an AI-driven Chrome extension that provides you with valuable keyword data directly in your browser. With accurate search volume, competition metrics, and related keyword suggestions, Keywords Everywhere helps you uncover untapped opportunities and optimize your content for maximum impact.
Maintaining impeccable grammar and spelling is essential for creating a professional image. Grammarly, an AI-powered writing assistant, helps you eliminate grammatical errors, enhance clarity, and improve overall writing quality. From blog posts to social media captions, Grammarly ensures that your content is polished and error-free, leaving a lasting impression on your audience.

Social media is a powerful tool for connecting with your audience and amplifying your brand's reach. SocialPilot is an AI-driven social media management extension that simplifies your social media scheduling and publishing tasks. From planning and queuing posts to analyzing performance metrics, SocialPilot streamlines your social media marketing efforts, enabling you to engage with your audience effectively.
Understanding your competitors and the broader market landscape is crucial for devising effective marketing strategies. SimilarWeb is an AI-powered Chrome extension that provides you with comprehensive website analytics, audience insights, and traffic sources. By analyzing competitor data and industry trends, SimilarWeb empowers you to make data-driven decisions and gain a competitive edge.
Building strong relationships with influencers and potential customers is essential for growing your brand's presence. Hunter.io is an AI-driven extension that helps you find email addresses associated with specific domains. With Hunter.io, you can reach out to relevant influencers, establish partnerships, and build valuable connections to expand your reach and enhance your marketing efforts.
Organizing and managing information is vital for effective digital marketing. Evernote Web Clipper is an AI-powered extension that allows you to save articles, web pages, and notes directly to your Evernote account. With advanced search capabilities and seamless synchronization, Evernote Web Clipper helps you capture and access valuable resources whenever you need them, boosting your productivity and knowledge management.
Monitoring your website's performance and tracking your SEO efforts is essential for optimizing your online presence. MozBar is an AI-powered Chrome extension that provides you with instant SEO metrics, domain authority scores, and keyword analysis. With MozBar, you can evaluate the strength of your competitors, identify opportunities, and make data-driven decisions to improve your website's ranking and visibility.
Conclusion
Embrace the power of AI and revolutionize your digital marketing strategies with these eight remarkable Chrome extensions. From content creation and SEO optimization to social media management and competitor analysis, these extensions empower you to achieve outstanding results while saving time and effort. Stay ahead of the curve, unlock your creative potential, and take your digital marketing to new heights with the help of AI-driven tools.
FAQs
1. Are these Chrome extensions free to use?
The majority of these extensions offer free versions with limited features. However, they also provide premium plans with additional benefits and advanced functionalities.
2. Can these extensions work on other browsers besides Chrome?
Most of the extensions mentioned in this article are specifically designed for Chrome. However, some might have versions compatible with other browsers.
3. Do these extensions require any technical expertise to use?
No, these extensions are user-friendly and intuitive, requiring no technical expertise. They are designed to simplify your workflow and enhance your marketing efforts.
4. Are these extensions suitable for all types of digital marketers?
Yes, these extensions cater to various aspects of digital marketing, making them suitable for marketers across different industries and skill levels.
5. How can I install these Chrome extensions?
You can easily install these extensions by visiting the Chrome Web Store, searching for the extension by name, and clicking on the "Add to Chrome" button.